Quick summary
The Applied section of My Jobs is designed to help you review your application status and job history. Here's how to move, update a status, and manage the saved jobs within this section. 
Moving a saved job
Our hiring platform automatically saves jobs to the Applied section when employers post them directly to Indeed.
(If you saved it in My Jobs but submitted your application on another website, you'll need to use the menu options to manage it. See this Help Center page to review how.) 
Updating an application status
Keep track and update your status as you go through each step of the hiring process. Indeed's Hiring Platform doesn't track these steps for you. However, it's easy to do. Here's how:
Open the menu using the Update status button.
Choose a label that indicates your job status, including:

Interviewing
Offer received
Hired
Not selected by employer
No longer interested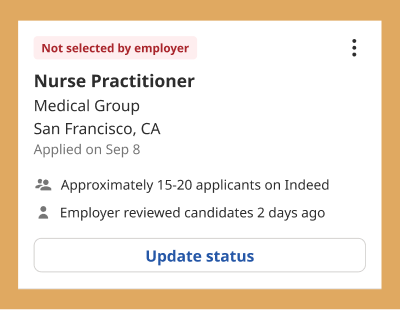 Important: You may see what's in the screenshot or something similar.
Managing your application status
Click or tap the 3 dots .
Open this menu, so you can:
What if my application is missing?
You might not see the job saved in your account if:
The application was completed on another company's website.
You applied using a different Indeed account or email address.
It's been more than 6 months since you submitted the application.
FAQs
Question: Can I see my entire job history?
Answer: Maybe. If you applied on other websites, we recommend maintaining your own application records or completing the Personal Data Request form for your Indeed job history.