Quick summary
The purpose of this page is to learn what kind of resume file to upload and how to manage it from your account.
Get started
First, sign in or create a new account. Verify you're using the correct email address.
Go to your Indeed Profile.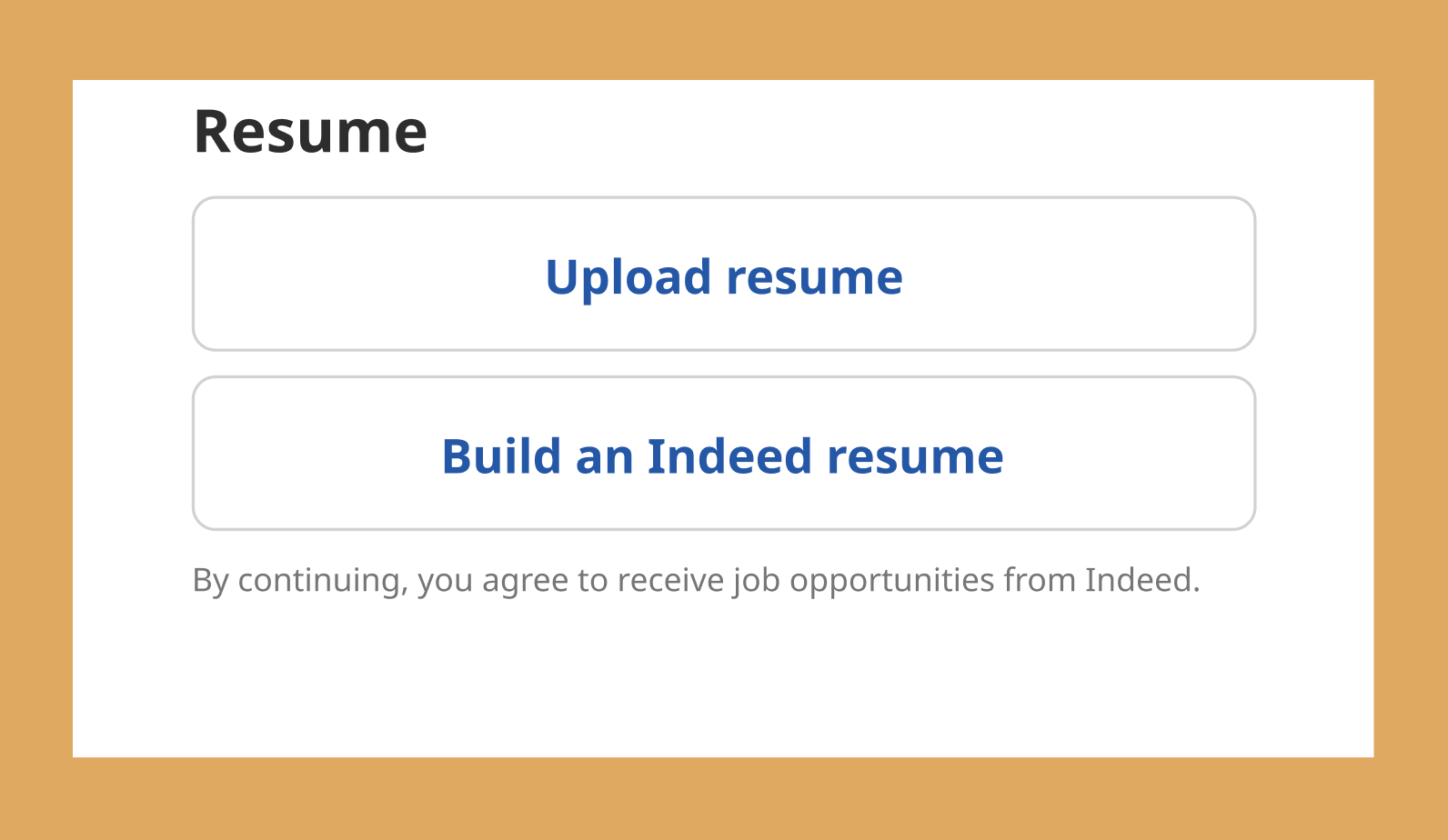 Important: You may see what's in the screenshot or something different.
Review your file
Do
Use a text-based resume.
Make your file less than 5MB.
Save it as:

.doc, .docx (Microsoft Word)
.pdf (Adobe Acrobat)
.rtf (Word Processing programs)
.txt (Simple Text Editors)

Keep multiple versions for different jobs on your computer or phone. You can only upload one resume at a time.
Don't
Scan a copy of your resume or take a photo of it.
Use graphics or two-column layouts.
Upload your file
Click Upload resume.
Set your privacy settings.
Click Continue.
Important: You may notice differences between Indeed.com and its mobile app.
Manage your file
You can manage your document using these file menu options.
Change privacy
Employers can search and find your resume when it's set to Searchable on Indeed.
Not searchable on Indeed: Employers, recruiters, and future employers can't search and find your resume.
Preview
Preview your resume as an employer sees it. We recommend choosing Searchable on Indeed, but you can change your privacy settings at any time.
Download
Save the resume file to your phone or desktop computer.
Update saved information
Update your account preferences to improve your job matches. 
Convert to Indeed Resume
Replace your current resume with an editable one. Enjoy other benefits like automated resume reviews, or access Skills tests to see your assessment scores.
Replace file
Upload and replace your current version with a new one.
Delete
You want to remove the resume from your account. 
Technical Support
Problem: I get an error uploading my file. I created my resume in Photoshop.
Solution: Applicant tracking systems (ATS) can't read every format and layout. Use a text-based document in one of the formats shown above.
FAQs
Question: If I upload a new resume will I lose my assessments?
Answer: No. If you upload a new Indeed Resume, you'll still have access to your Skills tests.
Question: I just uploaded my resume. Can I upload a cover letter, too?
Answer: No. You can't upload a cover letter to your Indeed Profile.
Question: I accidentally deleted my Indeed Resume. Can you restore it?
Answer: No. We can't recover a previous version of your resume.