Learn how to manage your resume before and after you upload or replace your existing file.
---
What this article is about
There are two reasons why you might want to upload a resume to your Indeed account:
You created a new one.
You want to replace an existing one.
The purpose of this article is to learn how. Here's what you need to know:
First, sign in or create a new account.
Next, open your account Profile. If you haven't uploaded a resume yet, you'll see two buttons that say Upload resume or Build an Indeed Resume.
If you need to replace an existing resume, look for the 3 dots

to open the Resume options menu. You'll click Replace file or Upload to replace resume depending on your resume type.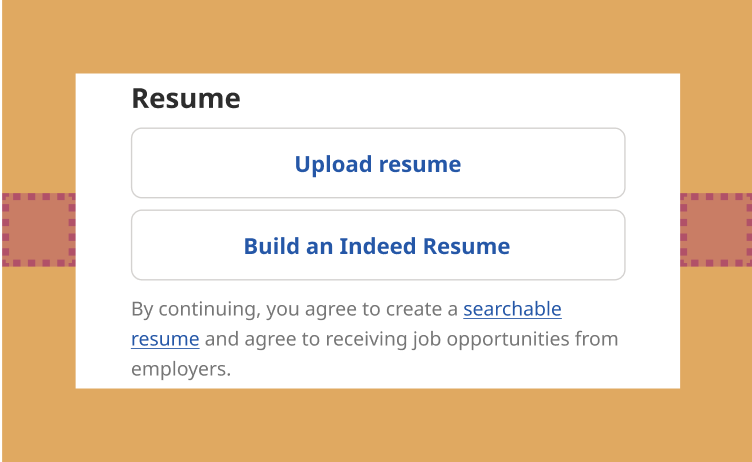 Important: You may see what's in the screenshot or something different.
Get ready to upload or replace your resume file.
Take note of these best practices.
Don't scan a copy of your resume or take a photo of it.
5 MB is the largest file size the system accepts.
Keep your resume simple. Applicant tracking systems (ATS) can't always read every format and layout. Graphics or two-column layouts make it difficult to scan.
Save multiple versions of your resume if you're applying to different types of jobs. Keep these handy, since you can only have one resume in your Indeed account at a time.
If you make changes to your resume, save each version.
Save the file as one of these file types.
.doc, .docx (Microsoft Word)
.pdf (Adobe Acrobat)
.rtf (Word Processing programs)
.txt (Simple Text Editors)
Did you know?
If you want a different template,
use our other online resume builder
. Create new sections, change the format, and add different styles. Don't forget to download it.
Now that your resume is online, learn how to manage it.
In the Resume section, click the 3 dots

to see the Resume options menu. Click or tap each link below to learn more about managing your new or replaced file.
| | |
| --- | --- |
| | Important: Some people see different words on their menu. You may see what's in the screenshot or something different. |
Change privacy
Employers can search and find your resume when it's set to Searchable on Indeed.
Not searchable on Indeed: Employers, recruiters, and future employers can't search and find your resume.
View
Preview your resume as an employer sees it. We recommend choosing Searchable on Indeed, but you can change your privacy settings at any time.
Download
Save the resume file to your phone or desktop computer.
Update saved information
Update your account preferences to improve your job matches.
Convert to Indeed Resume
Replace your current resume with an editable one. Enjoy other benefits like automated resume reviews, or access Skills tests to see your assessment scores.
Recommended: Indeed doesn't save the file you're converting. We recommend downloading and saving the file you're going to convert.
Replace file
Upload and replace your current version with a new one.
Best practice: Go back and review the other Profile sections to make sure they're set up how you expect or want.
Delete
You want to remove the resume from your account.
Did you know? We can't recover a previous version after you delete it.
---
FAQs
If I upload a new resume will I lose my assessments?
If you upload a new Indeed Resume, you'll still have access to your Skills tests in your Profile and Assessments on your Resume. These won't be available on the Indeed app, so use Safari or Chrome to see these sections.
I just uploaded my resume. Can I upload a cover letter, too?
Maybe. You can't upload a cover letter to your Indeed Profile, but you can add it as an attachment to Apply now job applications.
---