Quick summary
The Saved section in My Jobs gives you a way to keep track of the jobs you're most interested in. In this article you'll learn about:
Save or remove a job
Make sure you're signed in and search for a job.
Here's how to save a favorite job. 

Desktop: Click the bookmark icon  or the 3 dots . Remove it by clicking them again.
Mobile: Tap the bookmark icon. Tap this icon  again to unsave or delete it.
Review your saved searches
Go to your account.

Desktop: Click the person icon .
Mobile: Tap the menu icon .

Select My jobs.
Did you know? If you're switching between devices, make sure you're using the same account to access My jobs.
Decide on your next steps
Apply.
Click or tap Apply now to start your application using Indeed's Hiring Platform. The Apply on company site button starts the process on the employer's website.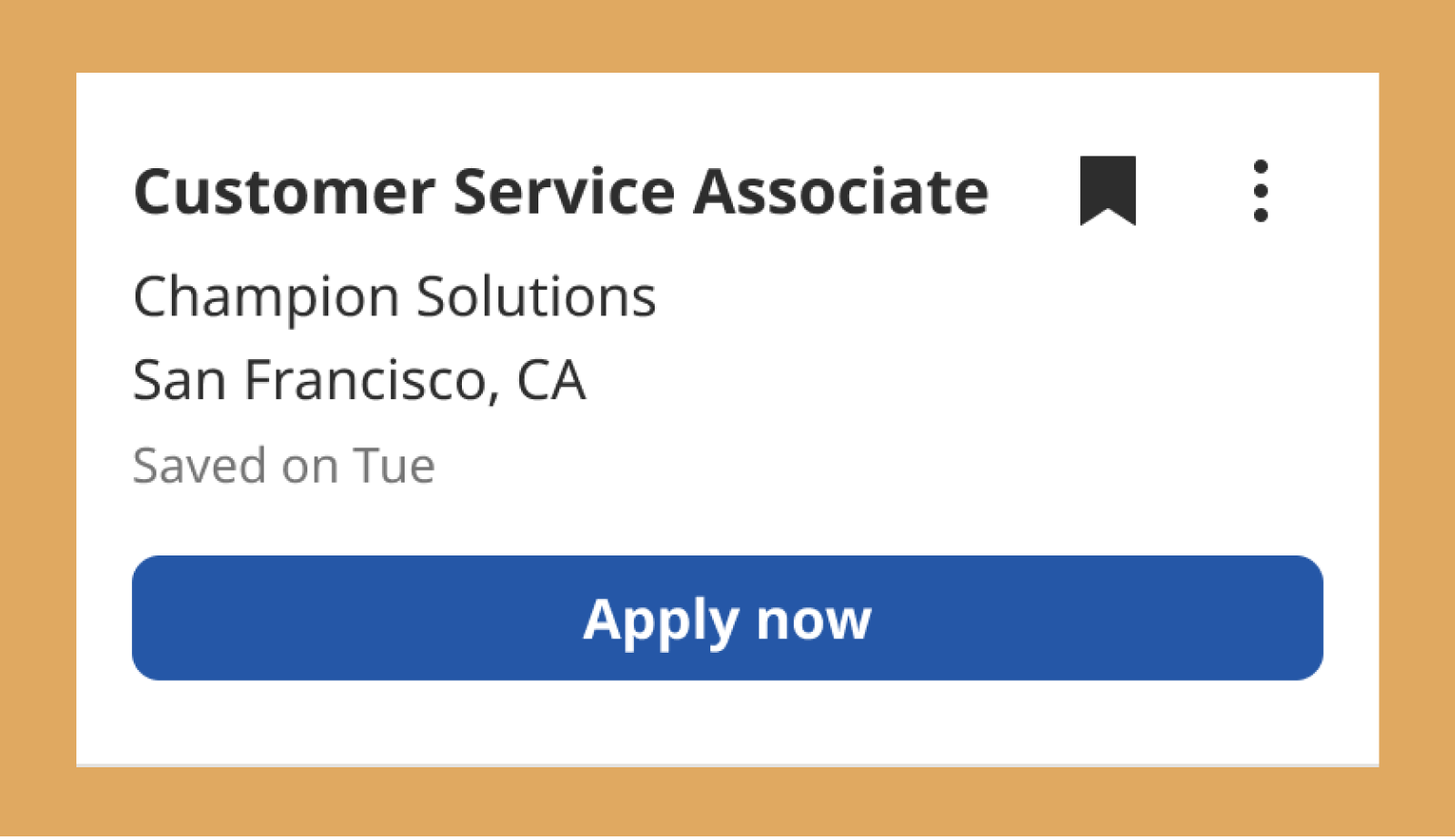 Switch from Saved to Applied.
Hosted and indexed jobs move differently after applying. Here's how it works:
Apply now: Jobs automatically move into the Applied section. You don't need to take any action.
Apply on company site: My jobs will update the status for you when you answer the question: Did you complete your application?
In either case, click or tap the 3 dots

near the job title and Move to Applied or Report Job.
Troubleshooting
Problem: I'm logged in and every time I try to move a job, I see a "Failed to move job" error.
Solution: One possible solution is to disable Adblock if you're using Chrome. Read more on Chrome's support page.
Problem: I can't see a job I saved.
Solution: Check to see which Indeed account you're signed in to if you have more than one account.
FAQs
Question: Why do my saved jobs disappear?

Answer: To keep things tidy, we remove saved jobs that are older than 6 months.