Here's how to find remote work.
Experiment with keywords, phrases, and locations. 
Add different combinations in the search fields. Look for the eyeglass icon

and enter your job title, industry, or keyword. Find the map pin icon

and search by region, state, country, or job search radius. You can also leave the location field empty.
Use filters.
Create specific searches by clicking or tapping the Remote filter.

Important: You may see what's in the screenshot or something similar.
Here are some sample remote searches.
Example 1
What: Remote | Where: Austin, TX
Example 2
What: Remote | Where: Remote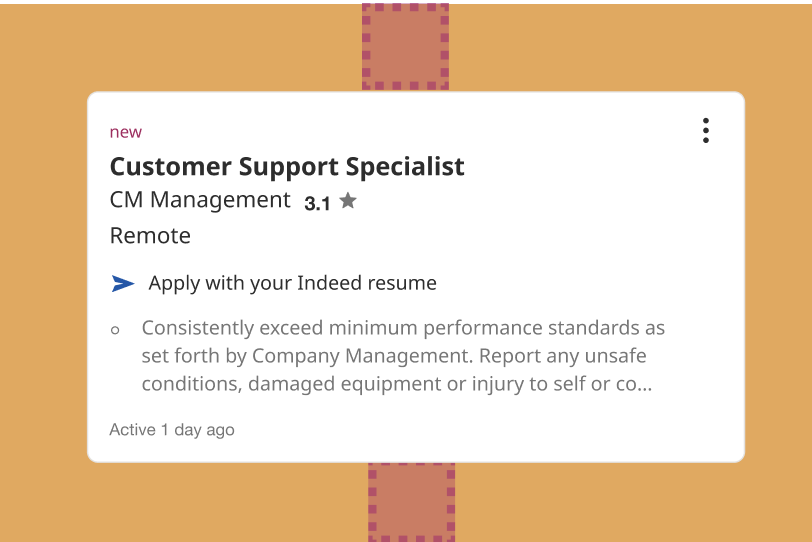 Remote work may mean different things to different companies.
"Work-from-home" doesn't always mean you can work from anywhere. Company policy, state or federal laws, and tax rules are different from state to state. 
Show employers you're available for remote work.
Click or tap Job preferences.
Click the plus icon next to Add remote.
Select your Desired work setting, including:

Remote
Hybrid remote
In-person
Temporarily remote

Save.
Use other Indeed resources.
Browse Company Pages. Skip the filters and scan the top companies. Read reviews from current and past employees. Get salary and benefit info.
FAQs
Question: My goal is to find remote jobs that offer visas and sponsorships. Can I find these on Indeed?
Answer: Yes. There isn't a specific filter for this category, so use quotation marks around the keywords "visa sponsorship" in the What 

field.
For example, this search phrase will list programmer jobs. The job descriptions may show:
"Candidates needing visa sponsorship are encouraged to apply"
"Do not provide visa sponsorship"
Question: Some remote job listings are confusing. I see locations like "Remote- MI," "Remote NC," Remote in North Carolina, or "Remote - Austin." Does that mean I can work anywhere?
Answer: Not always. Remote work rules differ from state and company. For example, some jobs require that you live in a certain location even when you can work from home. We encourage you to contact the company if you aren't sure.
Question: Can I search for "hybrid remote" jobs on Indeed?
Answer: Yes. Depending on your location, you may find a Hybrid filter or you can add the "hybrid remote" keywords in the What 

field.